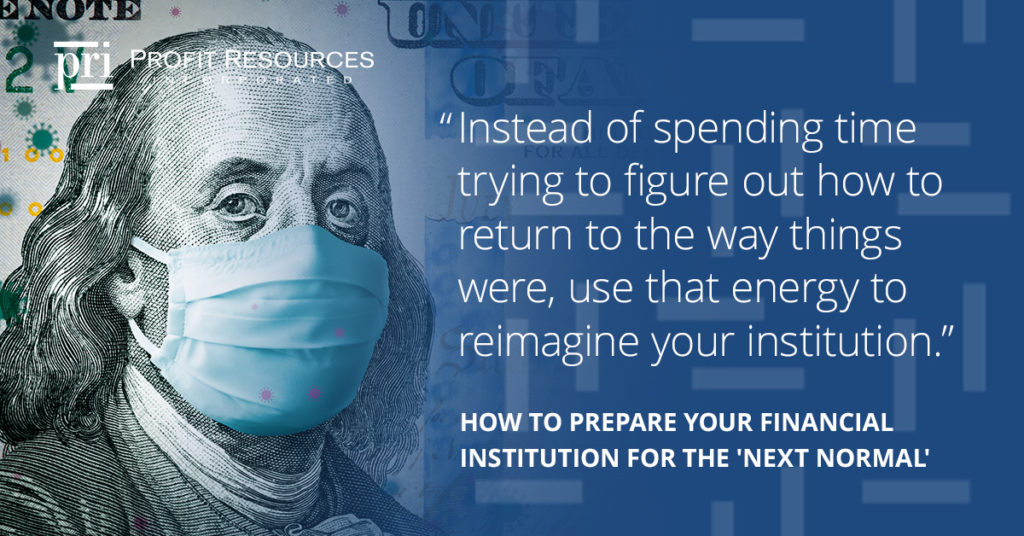 As states begin to reopen and Round 2 of the Paycheck Protection Program (PPP) is wrapping up, financial institutions will return to pre-COVID operations. Or will they? At Profit Resources Inc., we believe the pandemic is providing a unique opportunity to review how financial institutions of all sizes operate and serve their communities, customers and employees. Here are a few of the many things to consider.
Create a plan for reopening safely. CenterState Bank has published a blog called Our 20-point Bank Checklist for Returning to Work, which highlights a crowdsourced checklist from more than 100 banks for reopening operations.
Prepare to meet new demands. Consider what activities are likely to increase.For instance, your FI may need more loan modification or loan workout specialists than it has needed in the past. Evaluate and update employee skill sets to meet demand.
Consider Human Resource Implications. How do you balance safety of employees with serving your customers? Is your open office concept still appropriate? How do you evaluate the performance of employees who are now working remotely? Your pre-COVID job expectations and incentive plans may have been rendered less relevant. Revisit these and align them with the current environment and expectations.
Leverage working from home. We are currently experimenting with a completely new model of working due to COVID-19. The good news is that we've done it, and we've done it successfully. Now consider if you can leverage working from home as a key benefit for some employees or to attract an expanded talent base that your FI may have been unable to recruit before. You also can consider if you need as much office space for employees as you did in the past or if those spaces can be reallocated for better use.
Align distribution models with current realities. Ensure that your digital distribution channel is as robust as it needs to be. Evaluate how many branches you still need to operate and how you can reorganize so you are achieving the greatest efficiency for the least expense. Do all branches need lobby hours? Do all lobby hours need to be the same?
Evaluate your contact center. You've experienced a significant increase in customer calls during this time. There is likely to be a sustained increased need for personal interactions without physical contact, making call centers more central to your business. If your FI already has a call center, it may be necessary to expand it. If it doesn't, now is the time to consider implementing one. The skill set for call center employees will need to be expanded from answering questions about deposit accounts and services to being very well-versed in all aspects of your FI's digital channel options, talking about home equity loans or guiding customers on completion of applications.
The 21st century has already seen three major events that have caused us all to adapt to a "new normal." The events of 9/11 and the Great Recession rocked our worlds, with the impact of COVID-19 promising to exceed both of those events. It's time to recognize that "normal" has a very short half-life. Instead of spending time trying to figure out how to return to the way things were, use that energy to reimagine your institution. A thriving organization is nimble and prepared to evolve while conditions beyond our control drive that evolution. Think of it as the "next normal" and be ready!
Profit Resources specializes in identifying profitability improvement areas for financial institutions through revenue growth, cost control, streamlining processes, and effective use of technology. Contact us to learn more about our personalized approach to propel growth and improve profitability.