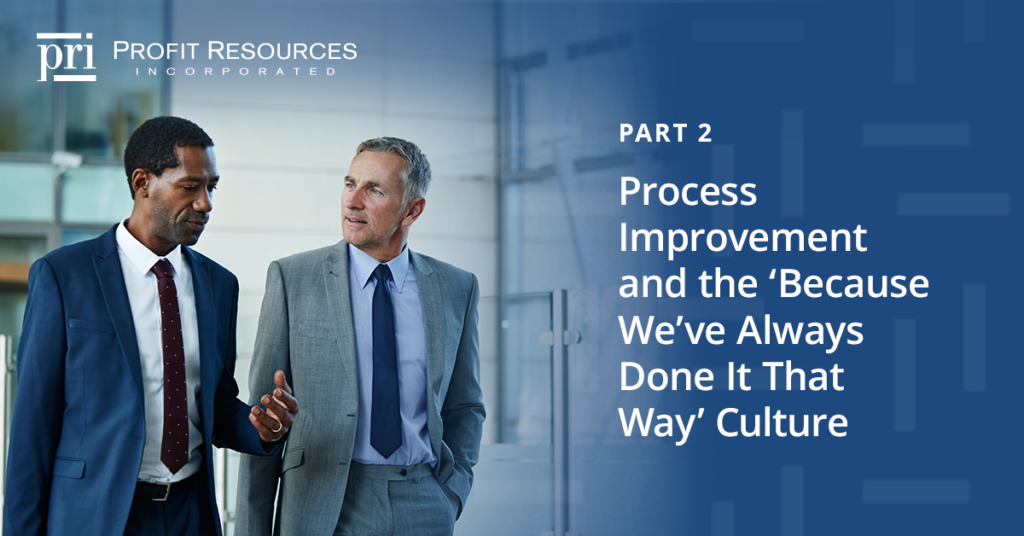 As we discussed in our last blog, change can be daunting. When an FI recognizes that doing things the way they always have could be leading to negative consequences for their organization, they may decide to change processes, allowing for increased efficiencies, improved morale, and increased profits. Establishing a proactive culture that asks the tough, thought-provoking questions is the first step.
"Once you've identified processes that need to be refined, it's important to get the impacted parties on the same page," said Jen Megee, PRI project manager. "Long-term employees who have worked a certain way for 10 or even 20 years often feel protective about these processes that have made up their daily work for so long."
How do you get buy-in for a proposed process change? PRI experts suggest the following steps to minimize objections, give team members a voice and get them excited about what's possible for the FI when outdated and inefficient processes are identified and improved.
Identify the process that needs to be adjusted
Identify all key stakeholders and give them a seat at the table
Have brainstorming sessions
Gather data, both quantifiable and informational
Present all pertinent information
Deliver a strong recommendation based on all factors (client experience, employee impact, income/expense benefit)
Set an action plan with task clarity and defined deadlines
Create a strong communication plan
Track results for accountability
Adjust as appropriate
Acknowledge and recognize milestones
"Banking has changed drastically in recent years," Megee said. "By giving your employees a voice in how to evolve with those changes and letting them know the FI cares about improving both the employee and customer experience, you are demonstrating a commitment to your employees that will make a difference in your retention of talent and your profitability as an organization."Profit Resources specializes in identifying profitability improvement areas for financial institutions through revenue growth, cost control, streamlining processes, and effective use of technology. Contact us to learn more about our personalized approach to propel growth and improve profitability.