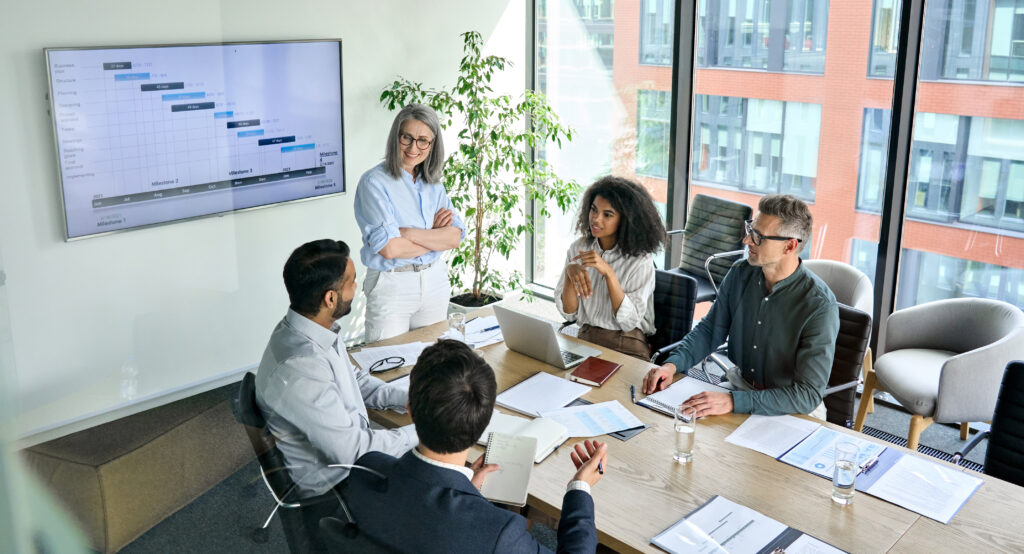 Strategic planning is a process used by financial institutions to identify short and long-term goals, determine the strategies necessary to accomplish those goals and devise an approach to evaluate progress. While strategic planning usually takes place at the senior management and board of director level, it can often stall out there, never driving down into the organization and becoming part of the culture. If this happens, it becomes nearly impossible to drive results holistically throughout the FI.
The CFI article Strategic Planning, notes that effective strategy implementation involves getting employees to get on board with putting the strategy into action.
"After a strategy is formulated, the company needs to establish specific targets or goals related to putting the strategy into action and allocate resources for the strategy's execution. The success of the implementation stage is often determined by how good a job upper management does in regard to clearly communicating the chosen strategy throughout the company and getting all of its employees to 'buy into' the desire to put the strategy into action. Effective strategy implementation involves developing a solid structure, or framework, for implementing the strategy, maximizing the utilization of relevant resources, and redirecting marketing efforts in line with the strategy's goals and objectives." – CFI
Jen Megee, PRI Director of Process Improvement, says there are five steps an FI must take to ensure an effective strategic plan is more than a "check the box" exercise and becomes part of the culture.
1. Hold a business planning session with key department heads.
To avoid having departments working in silos and to encourage cross-pollination of ideas, a planning session is crucial to the strategic planning implementation process. Ask how each line of business can best contribute to the overall goals and objectives of the financial institution. Be sure to continually align department goals with the mission and vision of the FI.
2. Build an overall, detailed business plan by department.
Using the results from the planning session, senior leadership can now provide guidance on the top priorities to focus on that make the biggest impact to the FI's strategic plan.
"An FI's top priorities typically focus on increasing income, reducing expenses or improving operational efficiency," Megee said. "There can be different priorities during different seasons,depending upon the overall business and economic climate."
The business plan should do three things:
Set defined timelines.
Recognize where there is crossover in departments; clarify roles and responsibilities.
Identify key drivers for accountability – name who owns what.
3. Identify ways to track results.
While keeping strategic planning initiatives top of mind, the FI should determine which tracking methods are the best fit for the organization. Senior leaders should hold regular progress check-ins with key drivers to discuss whether goals are on target or whether there are obstacles to overcome.
The most effective tracking methods:
Tie into overall financial institution scorecards.
Link to individual performance management expectations, such as incentive/bonus plans or annual reviews.
4. Communicate, communicate, communicate.
Communicate regularly at the department level on the FI's progress.
"When employees truly understand what is expected and how it benefits the financial institution, its customers and employees, they feel empowered to own a piece of the success," Megee said.
Effective communication plans should include some common elements:
Repeat messages often and use different channels.
Publish a document quarterly showcasing results and providing updates on the FI's progress.
Hold a quarterly employee call hosted by senior management to review results and allow for Q&A.
5. Review and revise the plan.
It's important to be nimble and allow for adjustments to the strategic plan as circumstances and priorities change. The strategic plan should be reviewed at least annually and as needed.
The Financial Brand article Banking Industry Must Move from 'Strategic Planning' to Real Action, emphasizes the need for agility.
"Fundamental changes in the financial services industry provide both challenges and opportunities to strategic planners. There is an increasing need to build agility into the strategic planning and execution process, if banks and credit unions want to thrive in the digital age. This requires modifications to the existing planning process. Bringing agility into strategic planning requires accurate forecasting followed by accelerated decision making through a lean process. Swift execution through strong collaboration of stakeholders and linked incentives beyond annual target setting is also required." – Financial Brand
The goal of the strategic plan is to get as many employees engaged in it as possible, whether they own a little piece of a project, are a key driver or they are building client relationships. When the FI gets the synergies of the masses, it will grow, customer experience will improve and employee engagement will increase, all leading to increased profitability and bottom-line success.
Resources:
Strategic Planning – Definition, Steps, and Benefits (corporatefinanceinstitute.com)
What is Strategic Planning: A Definition (indeed.com)
Banking Industry Must Move from 'Strategic Planning' to Real Action (thefinancialbrand.com)
Profit Resources specializes in identifying profitability improvement areas for financial institutions through revenue growth, cost control, streamlining processes, and effective use of technology. Contact us to learn more about our personalized approach to propel growth and improve profitability.