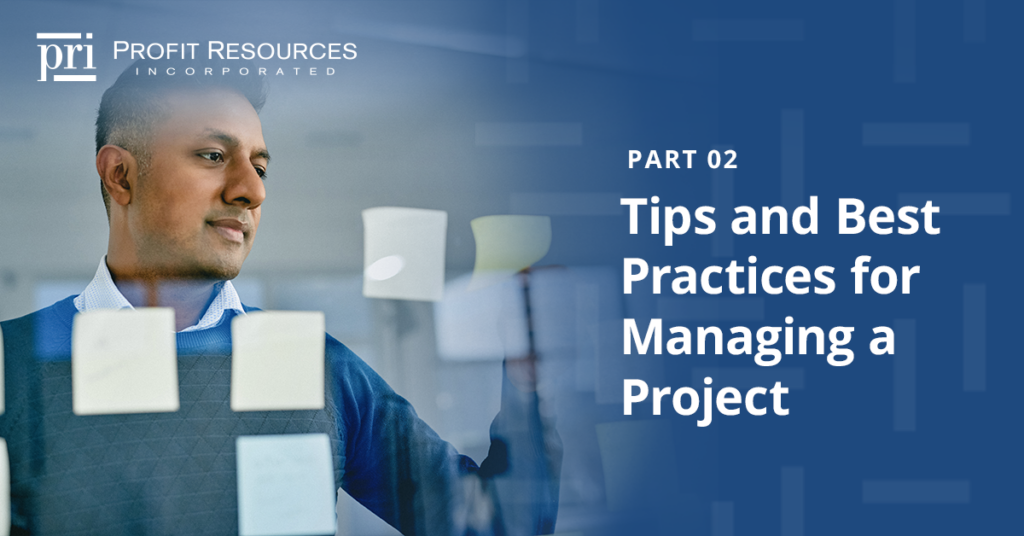 In our last blog post, Sue Schmiedeler, project manager at Profit Resources Inc., discussed best practices in project management that ensure the financial institution can minimize business disruption and maximize efficiencies and long-term benefits, including profitability.
In this blog, she shares 10 tips to facilitate better and more effective project management.
Assess the risks. Every project has risks, and it is important to identify and mitigate these risks.
Projects are about people. Choose the right project team members. Get to know the people on the team and take a personal interest in their success. Give team members a sense of ownership and ensure they feel like part of the team. Take care to adapt to different work and communication styles. And finally, make it fun!
Practice good meeting management. Keep the number of meeting attendees as small as possible, and only hold meetings when necessary. Always have an agenda and stick to it, using the 'parking lot' method for off-topic items. Show respect for the team's time by starting promptly and ending 5 minutes early.
Clearly define the roles and expectations of all team members.
Document, document, document.
Work hard to understand the subject matter. Although project managers are not required or expected to be experts in the subject matter, doing so will make a more successful project manager.
Work hard to understand the company. Know the strategic vision, the current state, the history of the company, and its organizational structure.
Establish good relationships with vendors.
Be flexible. Not all projects are the same. One size does not fit all when it comes to the tools, methods, and techniques used in project management.
Always have a contingency plan. Use the "If, then" method. If this happens, then _______.
Profit Resources specializes in identifying profitability improvement areas for financial institutions through revenue growth, cost control, streamlining processes, and effective use of technology. Contact us to learn more about our personalized approach to propel growth and improve profitability.