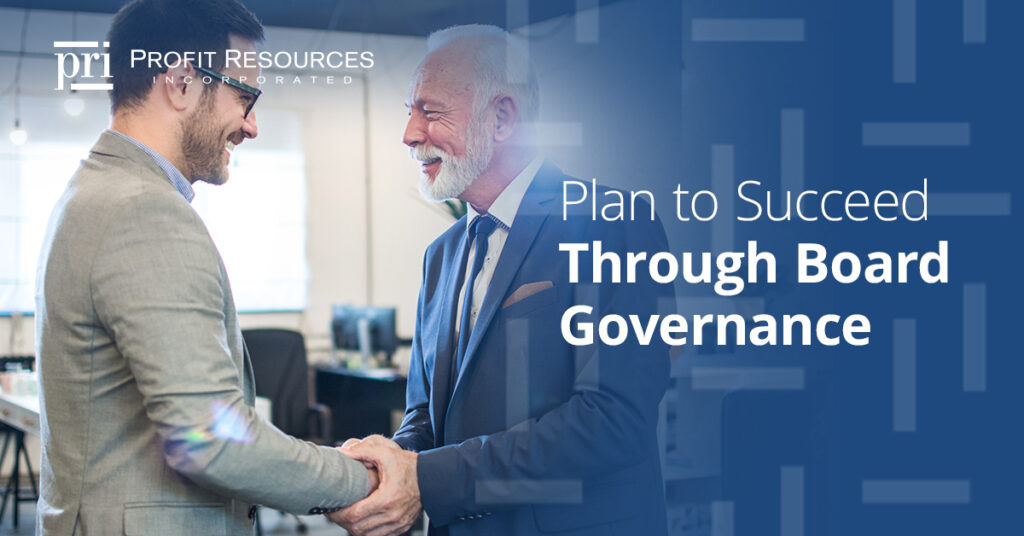 Benjamin Franklin once said, "If you fail to plan, you are planning to fail." His quote could not be more applicable to bank board succession planning, especially in today's quickly changing world. While director succession may be one of the more sensitive topics in the boardroom, director development and board repopulation should be regular agenda items at board meetings. Planning to succeed in board governance leads to the strategic success of the Financial Institution itself.
The Role of the Board
The role of a board is to set policy and strategy for the FI. Boards are also responsible for driving, at a high level, institutional performance and hiring and monitoring the performance of the CEO.
"It's important that the board stay strategic and high level, refraining from getting involved in the day-to-day management of the institution," said Mikelle Brady, Partner at Profit Resources Inc. "This approach minimizes the board's risk and liability and protects its fiduciary role. The board's main function is oversight."
Board Diversity
The diversity of boards is highly prized in today's environment. Boards should strive to diversify themselves not only in age, gender and race, but also in diversity of thought and professional experience. Boards who have different professions represented, such as CPAs, insurance executives and people who have owned their own businesses, will be stronger than those whose members have very similar backgrounds. Directors who are knowledgeable in the field of digital technology have particularly valuable experience to bring to the current era of digital transformation. In general, FIs should strive to tap potential directors who are long-time respected and valued community contributors.
"Regulators want to see that banks and credit unions have a focus on diversity of thought, backgrounds and ideas," Brady said. "It's less about checking specific boxes and more about the ability of directors to respectfully push each other and the FI to be the best they can possibly be. As the FI identifies where they are lacking in diversity and representation, they can take the opportunity to fill in those gaps when openings occur."
Training and Education
Board training and education is required annually. Continuing education is available on topics from board governance to cybersecurity to audits. Included in good board governance is performing a periodic assessment to evaluate the board's effectiveness as a group and individually.
Director Succession Planning
Succession planning is typically the governance committee's responsibility, but in privately held banks, the chairman takes the lead. Each FI sets its own policy recommendations for board membership, retirement age and term limits.
Effective succession planning should include:
Interim or short-term plans in case of unexpected leave (health, death, etc.)
Long-term plans to identify internal candidates that could fill key critical positions on the board and development plans for them.
Identification of external resources such as established networks and recruiters.
"Applying terms and term limits to the board goes hand-in-hand with succession planning," said Ty Glenham, Senior Consultant of Profit Resources, Inc. "Knowing in advance when directors will be stepping off the board allows the institution to plan ahead to diversify, identify people with critical skills and talents and keep fresh ideas on the table. The next 10 years will be different than what we have seen in the past 10 years, and solid succession planning ensures the bank's long-term success."
Final Tips
Find people whose skill sets reflect the strategic priorities of shareholders
Take a forward-thinking approach
Move away from reactionary situations and become proactive
Determine the skills needed to meet current and future challenges
Consider stakeholder/investor expectations. They monitor boards and governance to look for committed and qualified directors.
Aim to fill any gaps in technology knowledge, which has been a missing piece on boards
Consider leadership qualities needed for the next generation in banking
Conduct board and committee self-assessments to identify gaps in expertise and skills
Identify training and education opportunities needed for directors and committee assignments
Profit Resources specializes in identifying profitability improvement areas for financial institutions through revenue growth, cost control, streamlining processes, and effective use of technology. Contact us to learn more about our personalized approach to propel growth and improve profitability.