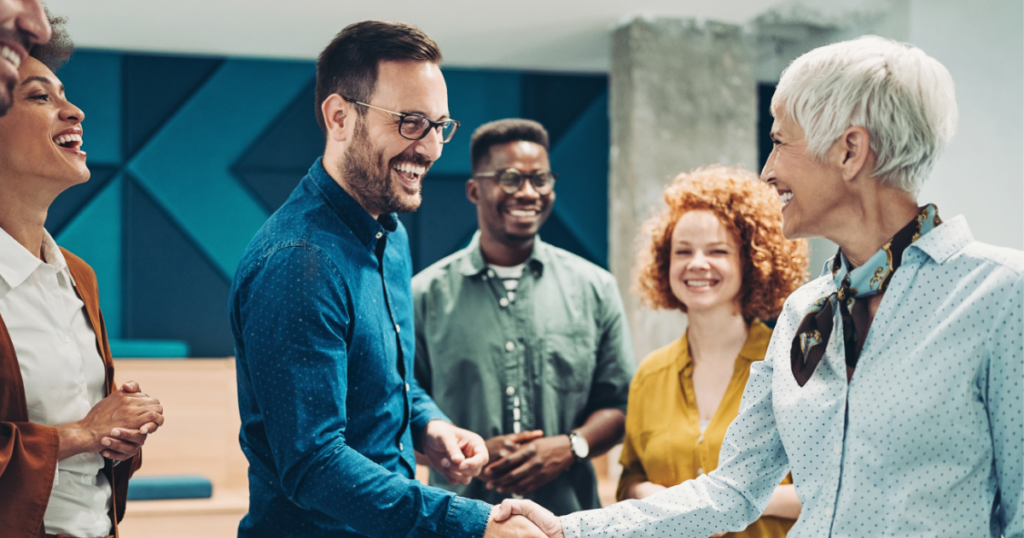 In our last blog, 5 Things Your FI Should Do to Prepare for a Merger or Acquisition, Sue Schmiedeler, project manager at Profit Resources Inc., highlighted five ways to help stem customer and employee attrition during the M&A process. Mergers and acquisitions, which have been a dominant trend in banking for decades, continue to drive FI movement as they compete for customers and profitability in their current markets.
One crucial merger and acquisition variable that deserves its own blog concerns the topic of company culture. The "people factor" is a key aspect of successful M&A that requires its own thoughtful approach and careful attention, according to PRI Director of Customer Experience Tom McGill.
"There is nothing like the euphoria of an announced acquisition or merger," McGill said. "The press releases talk at length about how perfect the fit is and how the cultures of the two companies are so well aligned. Unfortunately, as the activity of completing the merger commences, the tactics of mapping fields, converting files, and reviewing test output overwhelms the cultural aspect of the consolidation and creates a level of risk that can live with the combined organization for months and years to come."
The Forbes article, Merger and Acquisition (M&A) Execution: It's All About the People, says that culture is actually a critical key to long-term success.
"While it can take years to build the right culture, it can only take days to destroy it by setting new priorities unaligned with the acquired company's mission, making abrupt leadership changes without transparency or hiring/integrating "bad weeds" who create a toxic workplace environment." — Forbes
In a previous blog, M&A Integration: A Focus on Culture, McGill said aggressively taking on the cultural reconciliation is imperative to a successful M&A integration and is driven by a communication strategy that begins as soon as permissible and continues well past the actual data conversion. Simply sharing core values, mission statements and the like will not cut it. Great cultures are built and shared through stories, also known as "reasons to believe."
"Intentionally addressing culture can be challenging and time consuming. Putting off culture concerns until later may seem like no big deal, but you will pay for it eventually," he said. "Investing in culture from the beginning will reap valuable dividends in the end and will help the process run smoother along the way."
​Being intentional about cultivating the go-forward culture during a M&A integration requires some key activities, including the following:
Communicate frequently with both organizations about the reasons for the merger/acquisition.
Don't limit the communication to senior leadership only. It's the client-facing staff who will have the greatest impact on the success of maintaining customers throughout M&A.
Make sure that external communications are also shared internally. Don't let anyone find out about something when a customer walks in waving a letter in their hand.
Treat acquired employees with respect and integrity. Don't fill them up with good news and avoid telling them some of the harder facts.
Create a buddy system pairing people from both institutions together to help ease the transition. Give the incumbent guidelines on the types of information they need to impart to the new employees and then give them the tools necessary to do so successfully.
Train aggressively but not too soon.
Look for milestones to celebrate and celebrate them vigorously.
Continue the cultural assimilation well beyond the date of the M&A system conversion. Too often, everything ends when the systems are combined.
"To preserve the positive culture and the market momentum during times of integration and transition, there needs to be a clear understanding regarding the intent of the acquisition. 'We acquired you because of who you are, and we would like to maintain who you are while enabling you to scale faster.' That message should be followed through by action. If not, the levels of trust between both parties essential to operational growth will suffer irreversible damage." — Forbes
Peter Drucker famously said that culture eats strategy for breakfast. Not paying attention to culture during M&A sets you up to have your future success nibbled away at one bite at a time. Feed the culture and you will be richly rewarded.
Resources:
M&A Integration: A Focus on Culture
5 Things Your FI Should do to Prepare for a Merger or Acquisition
Merger and Acquisition (M&A) Execution: It's All About the People
Profit Resources specializes in identifying profitability improvement areas for financial institutions through revenue growth, cost control, streamlining processes, and effective use of technology. Contact us to learn more about our personalized approach to propel growth and improve profitability.